Advertise with GeGeek
GeGeek offers advertising throughout the entire domain. Depending on what you're interested in advertising will depend on the price and also the location. Don't let our prices put you off simply because they're large. They're set at this level due to the volume of traffic that this domain registers. Our options either include 3 Months or 12 months.
Advertise GeGeek
Banner Main Page USD$400 yearly / USD$150 3 Months
For a text link on the main page is USD$400 yearly / USD$120 3 Months 

To place a text or banner link on the GeGeekTechToolKit main page. This is our high ranked page for views. 3 Months USD$700
If you'd like a banner (468×60, 728×90 etc) located in any of the category sections the price depends from the location. If its placed at the top of the page, for example the Audio/Video section, below the Audio/Video Banner, the cost of the banner is USD$350 = Yearly/ USD$100 = 3 Months. If placed at the bottom of the website, USD$250 = Yearly.
We also offer advertising your link within our software, GeGeekTechToolKit or JaQuiE, the price for the toolkit is USD$200 and JaQuiE is USD$150 = Yearly / USD$75 3 Months.
Referring Countries – September 2018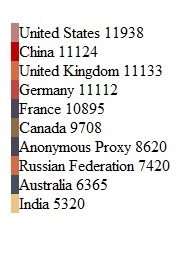 Browsers – September 2018

Was quite surprised to see the majority of users on this website using IE.
Sponsorship
From time to time we offer a sponsorship for our GeGeek Tech ToolKit application. The sponsorship is usually due to a release that is being offered for free to a massive client list or we're running a competition. If you'd like to sponsor your company details at the top of the toolkit menu, cost is USD$75 – For the duration of that current version (Usually 3 months)
Why are the prices so high?
The reason the price is extremely high is because the toolkit is one of the main reasons people visit our website, the toolkit alone receives on average 20,750 to 33,600 hits per day.
The position right at the top of the domain is negotiable. If you want to have your banner in that location, first you need to negotiate a price with the owner CallThatGirl on how much you'd be willing to pay them to have the banner removed, then you'd need to discuss a suitable payment to be placed at the top, anything under USD$60,000 will be ignored.
Any payments you opt to send through, please send through this link. Then head on over to the Contact section and fill out the information or ask for more information regarding advertising.
Our prices coincide with the traffic that has accumulated not only from our toolkit but also our wealth of information to tech users.
All prices are negotiable within reason.
School or Education Users
If you run a school or education section and you'd like to have one of your posts added, the post is limited to 2000 words, 5 images, 2 website links. The price is set at USD$300 – You will need to provide all details of the education, (This includes details of the head, address, postal details, phone numbers and names) to be accepted for the post. All images will be stored on the server, no scripts allowed, this doesn't entitle you access to the toolkit. It does however entitle your page on our website indefinitely. If you'd like to apply for this please use our Contact Section.
Run your own website?
If you come across a link on our website that is either dead or the link to that websites content isn't working and you'd like to use your own website to take over the service that's already provided, the cost of this service is USD$90 3 Months or USD$300 yearly.
Terms & Conditions
If a user has paid

USD$x

for a banner position and someone else pays the same amount for that position, both banners will rotate. We've no control over who's banner will be displayed the most.
If your text or banner website address links to anything against our terms, we will ban your banner or link, you will also not be refunded for violation of the agreement you make when you opt to advertise with GeGeek
We do not allow anything related to the adult industry or anything related to illegal content or warez links in our advertising.
All websites will be checked, we don't accept free domains as traffic or websites that use frames of other websites to gain traffic.
You hereby agree to the following terms and conditions when you advertise with GeGeek.
These terms and conditions may change at anytime.
Your website would be more suitable if it fell in line with the current content of our website. If your content is not tech related and does not fall into our categories, your domain may take some time to rank.