Bust the bustup with AppBuster
Bust the bustup with AppBuster







Bust the bustup with AppBuster
When you first setup Windows 10 and you frantically click all those options to NO for Microsoft, does this really prevent Microsoft from installing other crapware on your system? Hell No!!! AppBuster takes the slight of hand out of the software and helps you by removing the junk that comes preinstalled after a clean install of Windows 10. Even if you opt to install the Windows 10 Signature edition, its still installing all the other pieces of third party Microsoft crapware into the mix. So once and for all, lets actually remove the crap.
More control over your operating system
Uninstall apps pre-installed by Microsoft (also the hidden Apps!)
Remove pre-installed third-party apps and protect your privacy
Reinstall accidentally deleted apps
Undo changes at any time by creating a system restore point
Changelog
Version 1.1.1339 – released on April 2nd 2019
NEW: The storage space of old apps is now fully released
NEW: View settings are saved
NEW: Search also possible via hidden apps
NEW: Display of hidden apps in status
NEW: System information in the info dialog
FIX: Incorrect product name in INI file
Minor bug fixes
Available in English and German
Further information
Portable Version – no installation required
Free of charge for private users,
companies and educational institutions
Operating System: Microsoft® Windows 10
Supports all Windows 10 versions up to 1809 (Redstone 5)
Did you notice that Microsoft, along with Windows 10, also installed a set of apps by default? Some of them make sense and are useful, but some of them are not manufactured by Microsoft, rather by third-party vendors. O&O AppBuster gives you the control back over your Windows 10 again! Now you decide which apps you want on your computer. To make it as easy as possible for you, we've divided the apps into categories and give you tips on which apps you can safely remove or reinstall with one click and which ones you should leave.
O&O AppBuster is entirely free and does not have to be installed – it can be simply run directly and immediately on your PC. And it will not install or download retrospectively unwanted or unnecessary software, like so many other programs do these days – no crapware!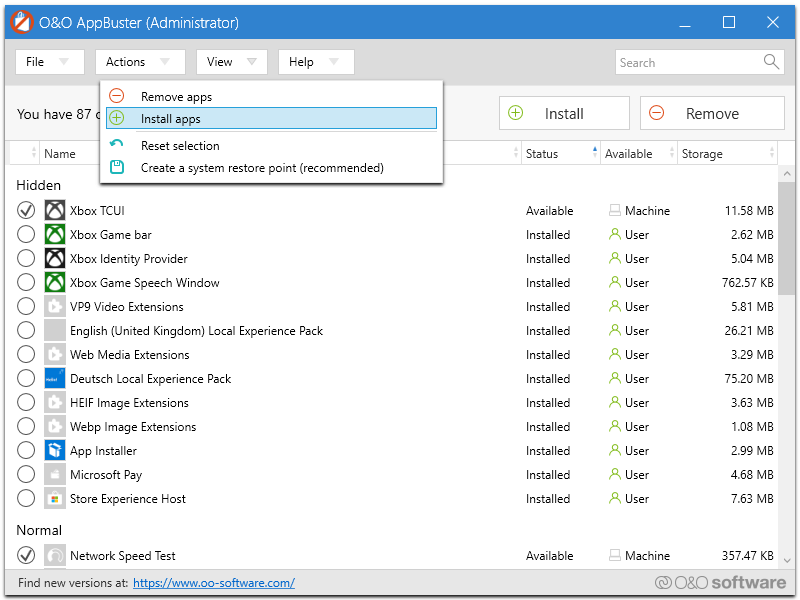 oo-software, oodefrag, oodiskimage, oosaferase, ooclevercache, oobluecon, oopartitionmanager, oodiskrecovery, oodriveled, oodiskstat, ooemc, O&O, O&O Software, O&O-Software, oosoftware, oosoft, oodefragpro, oo-defrag, oo-diskimage, oo-safeerase, oo-clevercache, oo-bluecon, oo-partitionmanager, oo-diskrecovery, oo-driveled, oo-diskstat, oo-emc, ddd, deutschlanddeinedaten, deutschland deine daten, datadataeverywhere