Battery Limit feature for Surface devices
Battery Limit feature for Surface devices



The new Battery Limit feature of Surface devices from Surface Pro 3 forward addresses these situations by providing a UEFI setting that instructs the battery controller to limit total charge to a maximum 50%. Enabling the setting preserves the battery's ability to take and hold a charge while it's connected to external power for an extended period of time and is recommended for Surface devices integrated into solutions like kiosks, consoles, and other scenarios where they are constantly connected to an external power supply.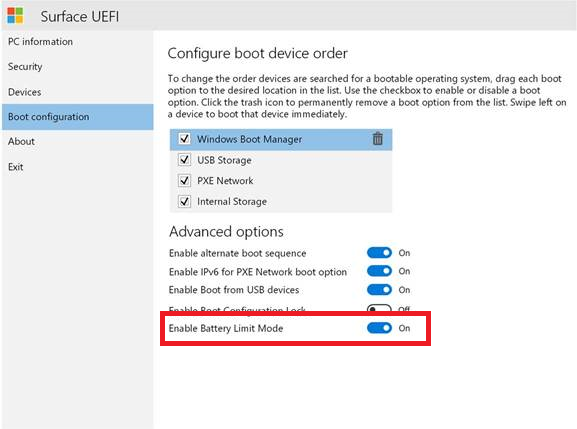 Enable "Battery Limit" for Surface devices plugged in for extended periods
---
Summary
Assume that your Surface device has to be plugged in for extended periods of time. For example, you are using a Surface Kiosk. In this scenario, it is important to adjust the battery charging for optimal performance.
More information
---
To support Kiosk scenarios, the Surface firmware is getting updated to add a Kiosk mode. This mode allows configuration of battery limits through a Battery Limit setting.
Support for this feature is in the Unified Extensible Firmware Interface (UEFI) settings. You can enable Battery Limit through UEFI or through Microsoft Surface Enterprise Management Mode (SEMM).
The following bullets list the devices and firmware versions (some with needed updates) that support this feature:
Surface Pro 3 – September 10, 2018 update. UEFI version: 3.11.2550.0, EC version: 38.14.80.0 and later versions.
Surface 3
Surface Pro 4 – September 10, 2018 update.  UEFI version: 108.2318.769.0, EC version: 103.2241.256.0 and later versions.
Surface Book
Surface Laptop
Surface Pro Model 1796 and Surface Pro with Advanced LTE Model 1807
Surface Book 2
Surface Go
For more information, see Battery Limit settings.
This feature is being rolled out to devices via Firmware update.  As of 10/9 Surface Pro 3 and Surface Pro 4 support this new feature after the associated firmware updates.