Tinder Gold and Tinder Plus is it worth it
Tinder Gold and Tinder Plus is it worth it, well that all depends on YOU and how many more dates you would like to get. Upgrading does improve more likes.
Is it worth paying for Tinder?
IT was once the free app that most of your single mates loved to hate, but Tinder is now one of the most popular paid for apps around. Is it worth the upgrade?
TINDER is making a mint from frustrated singles. The once free dating app is now the fourth highest grossing in both the Apple Store and Google Play stores.
So how did that happen? Tinder has introduced premium paid services Tinder Plus and Tinder Gold. Of the millions of users, it's clear many are opting for the new paid perks.
Personally, I've had a tumultuous relationship with Tinder. I'm what we call in the game a serial lefter — by my estimate, there might be 200 swipes left for every swipe right.
For those that don't Tinder, that's one Yes in a sea of No. It's not purely based on being shallow — although it kind of is — it's that the choices just seem to be endless. Would paying for Tinder take out some of the legwork?
The first tier is Tinder Plus, which allows you to rewind, change your location and get extra right swipes and super likes. The pricing structure depends on where you live and how old you are, varying from $5 to $25 per month.
Regardless, add another $5 or so to upgrade to Tinder Gold. This gives you a free monthly boost — making your profile the most visible in your area for 30 minutes — and most lucrative of all, the ability to see who has already liked you. It's a hefty price tag for an app. Though it still costs less than rival dating sites like eHarmony, who charge $59.95 for a one month trial, or less if you sign up for a whole year or more.
Before I could even think about going Gold, I had to get on the Tinder Plus train. After forking out around $15, for some reason I also got a free boost.
It was time to let everyone in the area know I was ready to mingle. Like a maniac I furiously swiped through potential matches, which Tinder promised would make my profile even more visible. After 30 minutes my phone felt hot in my hand and I was suffering from some serious swipe fatigue.
In need of a holiday, I jetted off to New York City using the Passport function. I can totally see how this would be useful in teeing up international dates ahead of time, but for me it was kind of disheartening.
Unless I was in the market for an online romance, the American babes were far out of my reach. As for the rewind function, it was comforting to know it was there, but I didn't ever use it.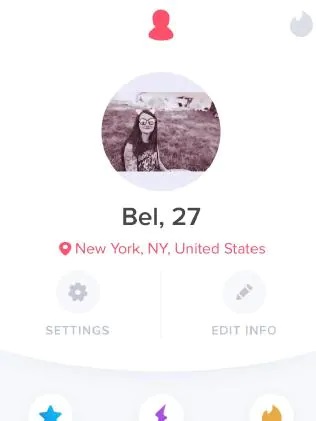 Now I was ready for Tinder Gold and to finally find out who had been liking me. While flattering, it wasn't dissimilar to just swiping through matches. I don't think the volume had any bearing on my profile, given many were well out of my usual age bracket. Soon bored and kind of spooked, I found myself wishing I'd spent the money on a nice lunch. On top of that, Tinder kept asking me to drop some more cash on extra boosts.
Other Tinder users have mixed reviews. Sally has been using Tinder for around 18 months and loves the new paid functions. "I was traveling around the US this year and on the advice of a friend, upgraded my account so I could set my location to the cities I would be visiting. I met so many great guys!"
"You can also go back to someone, which is good for me as I tend to swipe left on everyone really quickly. I mostly lose faith because I don't like to make judgments on appearance."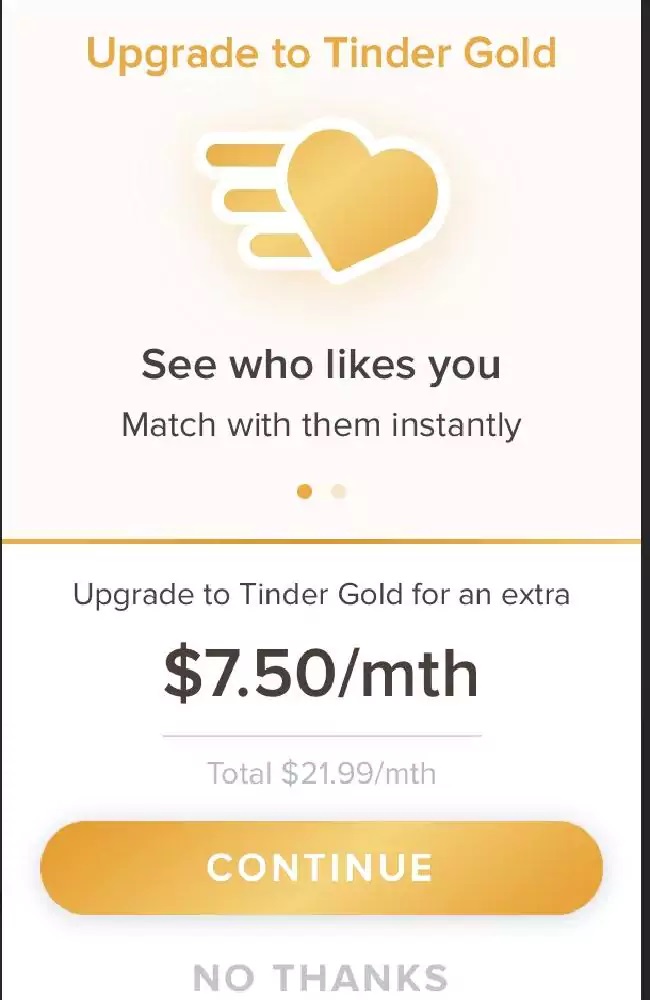 Adam has been on and off Tinder for a couple of years. "I get bored with it and I take time out here and there," he says. Recently Adam paid for premium membership, but didn't notice a massive difference apart from the unlimited right swipes. "Without paying you only get a small amount a day. So you can swipe right on as many people as you like."
Aside from that he's also noticed the infinite, random match pool. "There are all types! For what I was looking for the ratio was small … Some do want a real connection, but I think Tinder makes people disposable."
While Tinder Gold does have some convenient gadgets, it won't change your match feed or the superficial nature of the app. No matter your dating preference and whether you pay or not, you'll still need to swipe through the masses.
While the paid parts have certainly added a new dimension to the user experience, the benefits don't really warrant the escalating price tags unless you're heading overseas. The free version is just as likely to get you a date, so long as you're prepared to dive in.